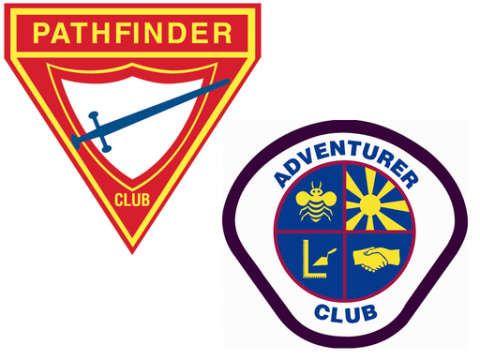 Pathfinders:
"Enlarging their windows on the world and building a relationship with God are the dual objectives of this club, which is designed for children ages 10-15. With nearly 2 million members around the world, this Seventh-day Adventist Church-sponsored club accepts any youth who promises to abide by the Pathfinder Pledge and Law regardless of their church affiliation."
Activities include a range from community/civic service projects in their community to nature and conservation studies to camping and high adventure trips. Pathfinders is built on an age-specific curriculum of six levels along with approximately 350 specialized skill development topics covering arts and crafts, aquatics, nature, household arts, recreation, spiritual development, health, and vocational training. These often serve as a launching point for lifetime careers or hobbies. www.gcyouthministries.org
 Adventurers:
"The Adventurer Club is a Seventh-day Adventist Church-sponsored ministry open to all families of children in grades 1-4 who agree to keep the Adventurer Pledge and Law. The Adventurer program was created to assist parents in their important responsibilities as a child's primary teachers and evangelizers. The program aims to strengthen the parent/child relationship and to further the child's development in spiritual, physical, mental, and social areas.Through the Adventurer Program, the church, home, and school can work together with the parent to develop a mature, happy child.
The Adventurer Club was created to give children an opportunity to belong to an organized peer group. To join, children are invited to participate in various activities which will improve their social skills. From the time children start school until they reach puberty, their need to be with and be accepted by their peer group is increasingly strong. One of the Adventurer Club objectives is to provide a meaningful and exciting experience as the children look forward with anticipation to some day being Pathfinders." www.adventurer-club.org
Our Pathfinder and Adventurer Clubs are open for new members to join in August. If you know of a child who would like to be a part of the Club, call 616-846-1170 for more information.